Looking for #affiliate promotional methods? In this comprehensive #guide, we'll explore the best #affiliatemarketing platforms, methods, and strategies for promoting your #affiliatelinks, both with and without a website of your own.
Click To Tweet
(If you're new to affiliate marketing and looking to get started, or are trying to understand the key terms and concepts, see our previous post here.)
I. What are "Affiliate Links"?
Since we're going to spend the rest of this time learning looking at ways to promote affiliate links, let's make sure we know what we're referring to and how to acquire them.
When you sign up for an affiliate program, you are given a unique URL (exclusive to you) that contains your referral ID or username.
When people click on an affiliate link, they are redirected to the sales page (usually containing promotional material) on the merchant's website.
Here's a couple of examples from my affiliate links:
http://quidera.sqribblex.hop.clickbank.net/
https://jvz7.com/c/2142769/337315
Affiliate links also install a cookie in the visitor's browser (when clicked) which enables the merchant to give credit to the affiliate for the sale. Unfortunately for the affiliate, if the customer blocks or rejects the cookies, he likely won't get credit for the sale.
II. Ways to promote your affiliate links on your website
Do you need a website to do affiliate marketing? No, but you'll be missing out on a lot if you don't have one, as you'll see when reading this guide.
Here are the top ways to do affiliate marketing on your website.
1. Writing blog posts or informative articles
This is one of the best methods overall. It gets you plenty of search engine traffic, provides readers with a lot of value, helps build your credibility, and gains the trust of your readers. So they are more likely to follow your recommendations and buy the products you are promoting (AKA, a higher conversion rate.)
What to do: Share your affiliate links in your blog posts by recommending products in your posts or integrating your links with your content.
Example: posts in our Blog.
2.Write Product Reviews
This is a subtle, but popular and effective subtle promotion method. Many people look for product reviews when interested in buying a product because they want to learn more about it and hear other people's experiences with it. Often this will influence their decision on whether to buy it.
What to do: Write a review of your product sharing your experience with it, giving your honest views on it, what you liked about it (or didn't, but be careful with the latter). Give an overview of the product's outstanding features, and direct the user to where and how they can buy it, or learn more about it on the merchant's website.
Example: IMReviewer
3. Product Tutorials/How-To Guides
What to do: Write an in-depth guide on how to use a product or some feature of it. This is especially effective if you thus showcase the product's use and features as the solution to a problem, to help your reader do something they want to get done.
4. Product Comparisons
A product comparison is like a mini-review of several products focusing on their similarities and differences in chosen aspects.
What to do: You can use a product comparison to highlight the advantages of certain products over others or to demonstrate the uniqueness of each.
A checklist is one common product comparison method.
5. Affiliate Banner Ads
An affiliate banner ad is a clickable image (ad) that contains your affiliate link.
Some affiliate programs provide you with premade banners. All you need to do is add the code to your website. If you use WordPress, you can do with the Custom Html block (or Shortcode).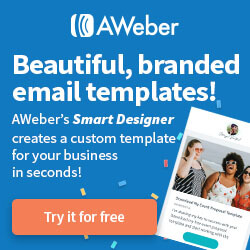 [Above: example of a banner ad.]
III. Ways to promote your affiliate links that don't require you to have a website
1. Email Affiliate Marketing
Your email list is your most valuable asset. Building an email list allows you to contact your audience directly and personally without depending on search engines and social media algorithms, hoping your audience will see your content. It's one of the most profitable forms of marketing.
What to do: Create a landing page (you can do that with Aweber or Leadpages) offering some valuable freebie (like an ebook) that they can receive only by submitting their email address. This kind of landing page is called a squeeze page, and the offer is called a lead magnet.
If you're a newbie and looking for an easy way to get started, Covert Commissions provides you with done-for-you squeeze pages and done-for-your automatic email campaigns promoting your affiliate links. All you need to do is add your Affiliate ID in your dashboard and connect your autoresponder (like Aweber). 
If you have a website, you can use pop-ups as well as landing pages.
And yes, you can do email marketing even if you don't have an email list of your own. No, I'm not talking about spamming. That will get you in plenty of trouble. I'm talking about running email solo ads and safelist marketing.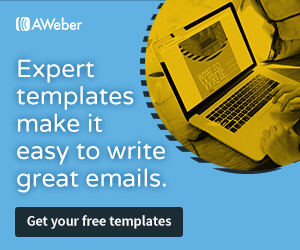 a. Solo ads
One of the best places to buy solo ads is Udimi. It gives many sellers to choose from, showing their average conversion rate and other ratings. It also gives you free live-time tracking for all clicks on your links. Even better, you can choose to have them write the solo ad for free if you don't have your own.
b. Safelist Marketing
A safelist is a mutual mailing list for marketers. Since all the members have agreed to receive marketing emails, they can't get marked as spam.
The major downsides of using safelists are that (1) you will receive a stream of emails in return that can quickly take up your time, and (2) with all the other marketing emails they receive each day, you'll get a much lower conversion rate. But I guess you get what you pay for, and it's usually free to join.
For the second reason, I would advise mostly advertising free products to generate leads for building your own email list.
Safelist Examples: InstantAdPower.com, Worldprofit Associates, Mister Safelist, AdExchangeAdvertising, Stay At Home Mailer, Viral Credits Mailer, The Lead Magnet.
2. Using Social Media
You must go where the people are if you are to succeed. And nearly half the world's population uses social media. If you're not using social media to promote your business, you don't know what you're doing.
Two different methods of promoting your links on social media are available to you.
1. The Direct Method: This is where you directly share your affiliate links and pitch a sale.
2. The Indirect Method: Send them to a landing page (such as a blog post, or product review) to learn more, and this page contains your affiliate links.
What social media platforms are available to you?
What to do: Share posts on Facebook in groups, in your bio, and your regular posts. Some groups allow you to promote your affiliate links but be sure it's ok so you don't get banned from the community.
You'll be more effective if you regularly share posts that provide value to your followers/readers, rather than just annoying them by spamming their feeds.
Tweets being as limited as they are, you may want to use the indirect method instead of sharing your links directly. You can also add your affiliate website to your bio.
3. Instagram
As popular as Instagram is, it's a bit trickier to use for marketing than others. Only those with 10 thousand or more followers can share links in their feed, put links in your bio, and direct people to go there.
Reddit apparently does not allow for affiliate links, so use the indirect method on Reddit and link to your blog posts or landing pages that contain your affiliate links.
Try to be helpful when sharing links, as simply link-dropping will not be appreciated.
5. Medium
Medium allows affiliate links, but you must clearly disclose your affiliation on whatever page you share your affiliate links on. It's not the most affiliate-friendly platform, but it's popular enough to give you a good chance at making sales.
3. Video Platforms
a. YouTube
YouTube being the second largest search engine in the world, you don't want to miss out on using it. In fact, for many YouTube is their primary way of making a living.
What to do: You can promote your affiliate links as resources in your video descriptions, or with popups during the video. Use YouTube to create product reviews or tutorials.
b. Rumble, Vimeo
Vimeo and Rumble are YouTube alternatives and Rumble allows you to monetize your videos.
c. Webinars (or live videos on social media)
Webinars have the highest conversion rate of any marketing method. If you're trying to sell a high-priced product, your best bet is to do a webinar on it.
You don't have to go live if you don't want to. Many webinars are pre-recorded and replayed multiple times.
d. Never forget to share your videos on other platforms as well.
4. Advertising (besides Solo ads and safelists)
a. Search Engine Marketing (SEM)
With Search Engine Marketing, you'll pay for ads that will appear at the top of the search results when people search for certain keywords.
You must verify that it is allowed in the terms of the affiliate agreement since some affiliate programs strictly prohibit you from using keyword bidding to promote your affiliate links.
b. Pay-Per-Click (PPC)
In addition to SEM, you can pay for other ads for your affiliate links. You can purchase PPC ads from Google and social media platforms.
c. Free Advertising methods
In addition to safelists, you can get free advertising for your affiliate ads or banners.
You can either get a set amount of credits per month or earn ad credits for viewing other's ads.
d. Traffic exchanges
What to do: For every site you visit, you get that many guaranteed visits to your site.
To do this, you'll need to join a network like Traffic Splash.
5. Ebook
A clever way to promote your affiliate links is through an ebook. If you offer the ebook for free, it will serve double-purpose as a lead magnet as well as a marketing tool.
If you're looking for an easy way to make and design ebooks (including some DFY), I recommend using Sqribble.
Not a writer? No problem. Affordably hire someone on Fiverr to write an ebook for you.
6 & 7. Comment on blogs and forums
Only provide your affiliate links in blog comments if they are relevant and helpful, else you likely won't get past moderation or spam filters. Even then they may not allow it, so it's better not to link directly.
The same applies to commenting on forums.
8. Referral link sites
Some websites allow you to share your referral and affiliate links directly on their platform. In fact, that's the whole purpose of their platform.
With Invitation, you can easily share your affiliate links and get free traffic automatically. It's like a social media site for link offers. Sign up here.
Conclusion
Have any other ideas? Let us know in the comment section below! And don't forget to subscribe and share this post on social media!
[Disclosure: This page contains affiliate links.]